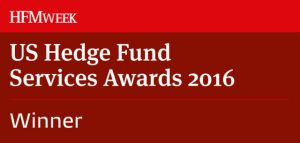 NEW YORK—Pillsbury has been named Best Onshore Law Firm for Hedge Fund Startups by HFMWeek at its HFM U.S. Hedge Fund Services Awards 2016. Partner Ildiko Duckor, who is co-leader of the firm's Investment Funds & Investment Management practice, accepted the honor at the awards ceremony, which was held at New York's Cipriani restaurant on October 20.
The HFM awards recognize the top U.S. hedge fund service providers that have demonstrated exceptional customer service and innovative product development over the past 12 months. Winners are determined by a panel of independent industry experts, who look at a combination of quantitative and qualitative measures. Pillsbury was shortlisted in two of the three onshore law firm categories this year. Last year, the firm was honored by HFM in the Client Service category.
Pillsbury's Investment Funds & Investment Management (IFIM) practice comprises more than two dozen business and litigation lawyers across the firm's U.S. and international offices. The group represents investment advisers, including hedge fund managers, private equity sponsors and mutual fund advisers; commodity pool operators and commodity trading advisors; benefit plans; broker-dealers; and other industry participants in a variety of strategic, regulatory, compliance and enforcement matters; and institutional investors in connection with alternative investment transactions.